ClearShine Products Use the Latest Tech
The Best Detailing Products are Finally Here!
Technology and science improvements are all around us in every aspect in life, so why not take those same advances and apply them to some of the biggest investments we own?  ClearShine finally did it and consequently created the best detailing products for anything, whether it's a car, truck, motorcycle, boat, RV, or airplane!  Our Exterior Collection is the best waterless wash and detailing system on the market!  Less time, less effort, fewer products, no guesswork, and most of all: BEST results!
We believe the best detailing products
are the ones which provide the best results for the least expense.  For example, our NanoWash formula provides industry-leading polymer protection for your vehicle's surfaces at a cost significantly less than other wash and wax methods.  The typical sedan will require ~4oz of NanoWash to completely clean, seal, and protect the paint, windows, and wheels... and it only takes minutes!  No more hours spent every weekend struggling to keep your cars looking their best!  At $49.99/gallon, 4oz is only $1.56.  You can hardly wash your car for such a small amount, MUCH LESS wax and protect it!
It's simple: Less time, Less money, More Enjoyment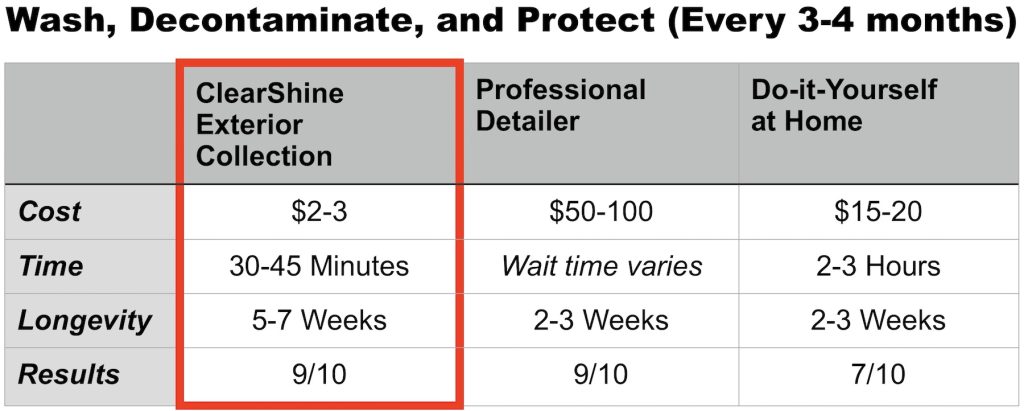 *2-3 weeks is the demonstrated lifespan of typical Carnauba-based waxes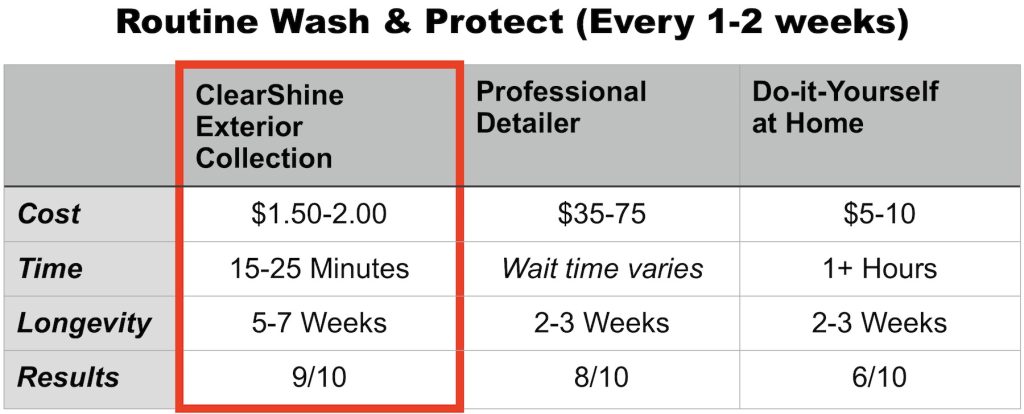 Environmentally Responsible
The Best Detailing Products Don't Hurt the World Around Us
The best detail products don't need to be had at the expense of the environment.  All ClearShine products are formulated with eco-friendly ingredients using methods that bear little impact to our only Earth.  Ultimately, our products save up to 50 gallons of fresh water per detail while preventing dirty wastewater runoff!
Finally - detailing you can feel good about!
 About Us
ClearShine is a small business comprised of several members with a broad range of professional detailing and automotive experience.  As a result of these personal experiences, we are able to put a target on "the best detail products" and chase after that goal.  Most of all, we understand that detailing is a "labor of love" that not everyone loves!  Therefore, we aim to create innovative products that save you time working so you can spend more time enjoying!