NanoWash – Gallon Refill
$49.99
In stock
Product Description
Want the best waterless car wash?
The Best Waterless Car Wash is here:
You've found it! NanoWash is the best waterless car wash not only because it softens dirt and separates it from the surface, but most noteworthy: it contains a proprietary sealant that bonds to the paint as you clean. Consequently, no extra products, steps, or time needed to protect the surface.
NO MORE WAXING!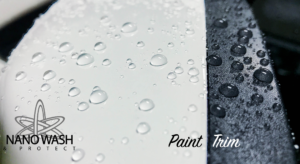 You'll save time and money with NanoWash thanks to its industry-leading 2-part polymer blend. First of all, the polymer emulsion cleans the surface by breaking apart stubborn contaminants such as dust, dirt, mud, bugs, bird bombs, brake dust, railcar dust, and general environmental fallout! While you're safely removing the dirt, the polymer sealant is chemically bonding to the surface to create a durable, glossy barrier against the elements!
We call it the best waterless car wash because it's easy to use and lasts several weeks longer than outdated waxes. Furthermore, the more you use it, the more layers are built up: contaminants stick less, you use less product per wash, and it takes less time.
WIN-WIN-WIN!
What does the best waterless car wash work on?
NanoWash is a great waterless car wash system to be used on PAINT, WHEELS, GLASS, MIRRORS, and any other shiny surface both inside and outside of your car! Works great around the house, too!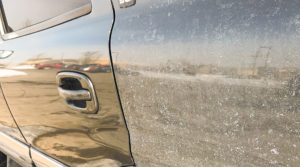 It's a complete "Detail in a Bottle!"
The Best Waterless Wash + The Most Efficient Tools
The best waterless wash is made even better with the proper tools, specifically the towels used and mechanical decontamination tool. Many towels are available on the market, but we have paired NanoWash with a premium edgeless microfiber towel that is a blend of 70% polyester and 30% polyamide. These two fabrics work together to make a towel that is soft, absorbent, durable, and most importantly, SAFE.
NO SCRATCHES!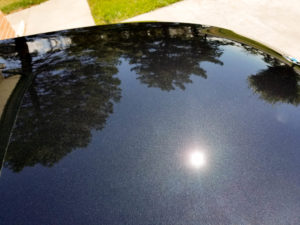 NanoWash breaks down and separates surface contaminants, but sometimes these contaminants actually embed into the surface and require mechanical removal. For the past several decades, this was done with a piece of soft clay. There are three primary downsides to this traditional method: first, traditional clay holds the contamination and gets "full" after 1-2 cars, requiring replacement. Second, if you drop the clay, you must throw it away because of the dirt it inevitably and unavoidably collects. Finally, the cost of a clay bar can be as high as $30 locally!
ClearShine decided to source a tool suitable for pairing with the best waterless car wash!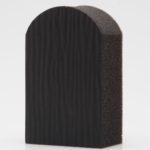 Made specifically for use with NanoWash!
Learn More
– Doesn't hang onto contaminants
– Easily cleaned if dropped (comes in convenient case, too!)
– Cost effective: typically lasts 50+ vehicles!
How To: Using the Best Waterless Car Wash
% Less Time
Spent Washing and Waxing
% Less Water
Used Per Wash
Check out ClearShine on Facebook!
Additional information
| | |
| --- | --- |
| Weight | 8 lbs |
| Dimensions | 6.1 x 6.1 x 8.95 in |